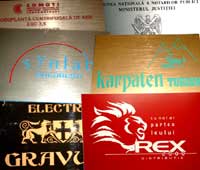 Engraved plates & signs
Engraved plates, made of different special engravable materials, like metallized ABS,
metallized PMMA, or different color combinations plastics (face & core of the material ), acrylic,
wood, anodized and colored eloxated aluminum, brass, nickel-covered brass, etc.
The engraved plates can be made for interior use, and also for exterior , with high resistance
to solar radiation, UV rays, weather, etc.
The maximum dimension  for engraved plates ( limited by the materials dimensions )
is 800 x 3000 mm   /   32 x 118 inches.